Honeybee Hive Installation and Maintenance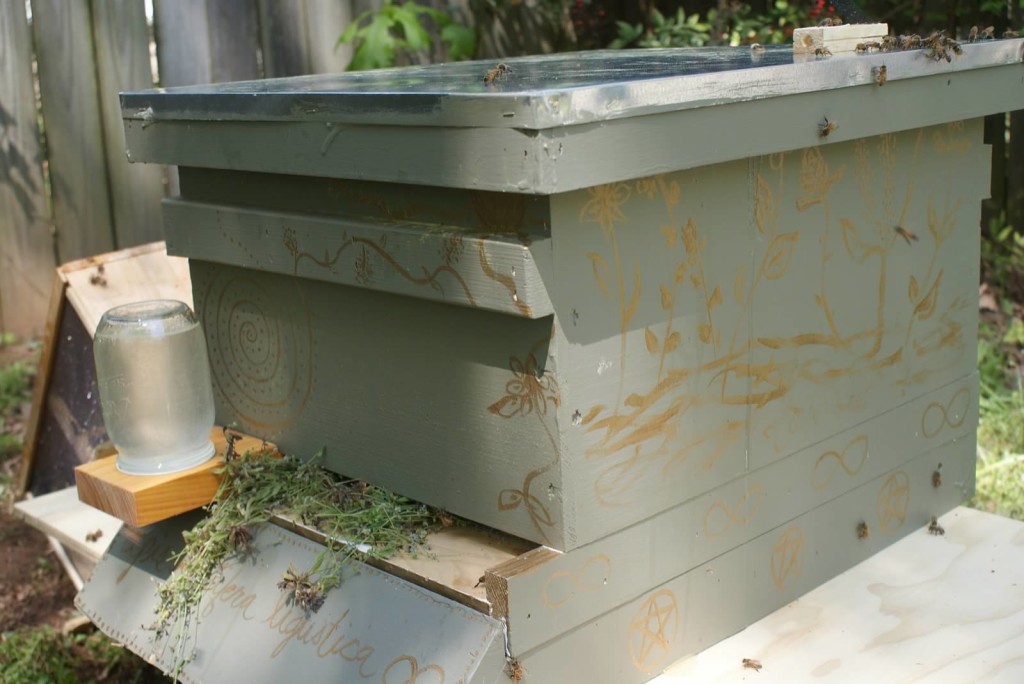 Grateful Trees & Bees is excited to lend our expertise to help you establish and maintain a honeybee hive on your property.  We'll install a hive and tend it for you — from purchasing equipment, to hiving the queen, to keeping the hive healthy, to extracting and bottling honey.  Or we'll help you don a beekeeper's suit of your own and offer training and support as you work your own hive.
Our Honeybee Hive Services include, but are not limited to:
Structural Installation
Bee Packages
Hiving the Queen
Beekeeper Training and Tools
Hive Maintenance
Honey Extraction and Bottling
We will design a personalized, custom package that includes the support services you need to join in the fight to save America's bees.
Initial Hive Set-up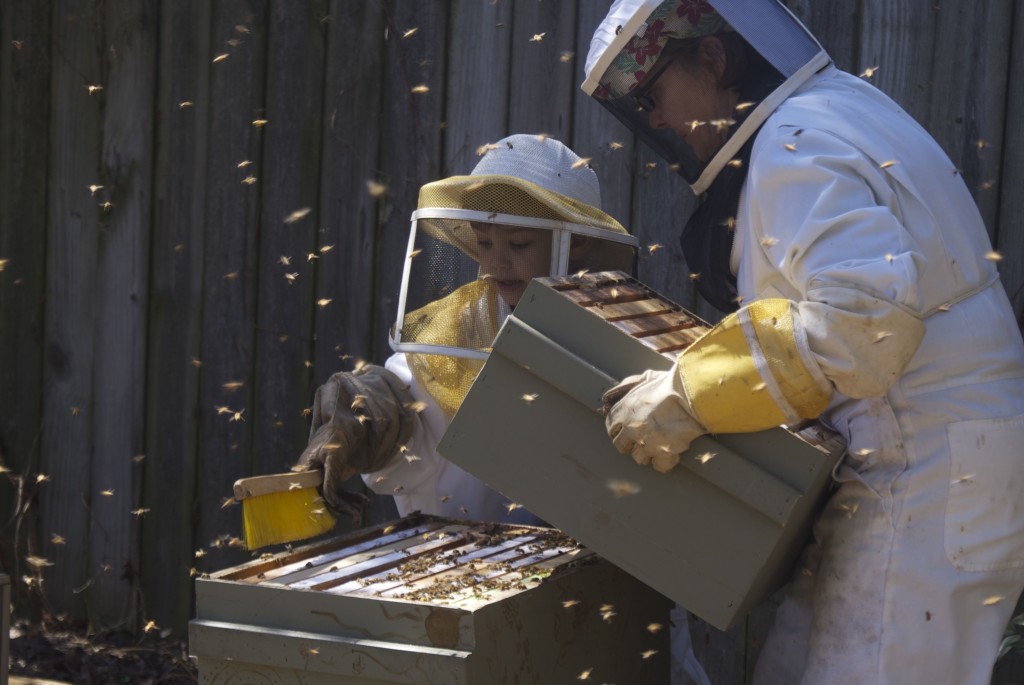 We suggest installation of either a Beginner's Garden Hive or a Traditional Hive.  Fall, Winter and early Spring are all good times to begin set-up of the hive structure.  Live honeybees are typically available in North Carolina from late March through early May.  Hive components will need to be procured and then painted to give the wood protection against the elements prior to use.  You will also want to spend time identifying the best site on your property for the hive; and depending on the human and animal traffic your yard receives, you may consider installing a fence around the hive.
A Beginner's Garden Hive is the smaller of the two hives we suggest and is becoming increasingly popular with beekeepers because of its ease of use.  Historically this type of hive has also been called a Woman's Hive, so noted because the smaller size, and thus weight, of the brood and honey supers were thought to be easier for a female beekeeper to lift.  A Garden Hive consists of: a cypress hive stand; a cypress IPM bottom-board; 2 cypress, 8-frame, medium supers (for brood and honey); 16-assembled frames complete with wire foundation; an entrance reducer; an inner cover; and an A-line copper top.
A Traditional Hive employs larger, 10-frame supers and a full brood chamber.  In the first year, the set-up should include a cypress hive stand; a cypress IPM bottom-board; 1 pine hive body for brood; 1 pine honey super; 20-assembled frames with wire foundation; an entrance reducer; an inner cover; and a telescoping top.  In year two, you will need to add an additional brood chamber and two or more honey supers.
The cost of hive equipment varies with the type of hive you choose and the market price of the component parts at the time of installation.  Additional costs will include beekeeping tools, the purchase of the honeybees themselves, and labor.  It is typical to invest between $200-$600 in hive equipment.  You can defray the cost by painting your own hives, selecting a telescoping top instead of an A-line copper top, and spreading the purchasing of component parts such as extra brood chambers and honey supers over the first two years of the hive.  Contact us for a free, custom quote.
Bee Packages & Hiving the Queen
In North Carolina, honeybee packages are typically available from late March through early May.  This window may vary given the actual weather conditions we have in any given spring.  Packages must be pre-ordered and paid for in advance, at which time you will receive an expected delivery date.
We work with marked queens so that we can easily monitor her as she establishes the hive.  We expect that the available species of honeybee will be apis mellifera ligustica, often called Italians.  We have worked often with Italians and find them to be gentle, non-aggressive, and slightly smaller than other honeybees.  Each package, also called a "nuc," weighs three pounds and will contain 10,000 – 12,000 bees.
Grateful Trees and Bees can handle package ordering, pick-up and hiving of the queen.  We charge a sliding scale rate of $75-$125 plus the cost of the bee package for this service.  The cost of the bee package fluctuates with market prices, but typically runs around $110-$120.
Beekeeping Tools, Training & Hive Maintenance
Our goal is to empower you to become a beekeeper.  We strongly encourage you to join a local Beekeeper's Association.  The North Carolina Beekeeper's Association maintains a list of County Chapters.  We offer service plans that include us meeting with you several times annually to teach you how to care for your hive, standing right beside you as you work your own hive, harvest honey and go through the process of honey extraction and bottling.
Standard tools of the beekeeper, often called a Beekeeper's Kit, include: a smoker and fuel; a hive tool; a bee brush; a helmet with veil; gloves; and a bee suit.  The cost for these tools can be rolled into the cost of hive equipment for a small savings and averages $200.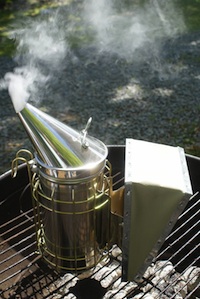 We also stand ready to assist our clients who wish to host a honeybee hive on their property, but who do not want to actively work the hive.  We will tend the hive throughout the year insuring the health of the hive, including checking for brood, assessing when to harvest honey, harvesting honey, and securing the hive for over wintering.  We bottle and return the honey to you, or you can give us the honey to help defray the cost of maintaining your hive.  We anticipate that each hive will require 8-10 visits per year.
Hive activity is highest in the early spring and summer.  Honey harvesting typically occurs once yearly in the spring or early summer.  We have a honey extractor we can bring to your property or we can carry the frames to our premises for extraction and bottling.
The health of the hive always takes precedence over honey harvesting.  Honey is the bees' food!  We do not extract honey until a hive has been established for a full year.  We also recommend "saving" a significant number of honey frames to feed the hive over the winter.
Grateful Trees and Bees will craft a custom beekeeping services plan to meet your needs.  Pricing will vary depending on the services included and will be quoted on a service visit basis.  Contact us today to request a free quote.
Fourth Generation Beekeepers
Beekeeping runs in our family.  Jake's mother, Pixie Barrows, runs our beekeeping services, custom designed to offer as much or as little support as you need to establish and maintain a healthy hive on your land.  Pixie was taught the art of beekeeping by her grandfather and began passing on the tradition to Jake at an early age.  She is doing the same with her grandson, Reid, who at the age of five enjoys donning the beekeeper's suit, hat and gloves.  Pixie brings over thirty-five years of experience in working honeybee hives to her position, is a North Carolina Certified Beekeeper and is a member of the North Carolina Beekeeper's Association as well as the Orange County Beekeeper's Association.
Our family is honored to share the art of bee husbandry with your family.  We trust you will find it as endlessly fascinating and rewarding as we do.
Contact us today for a custom beekeeping services quote*.
*A Note on Grateful Trees & Bees Pricing: In an effort to allow a wide range of property owners to participate in beekeeping, the labor for all services is quoted on a sliding scale.  The low end of the scale represents the minimum we are able to do the work for.  The high end of the scale represents the maximum we believe the job can be valued at.  You choose where you fit on the range of prices.  If you are on a fixed or low income you may choose a figure at the lower end of the scale.  If you have a regular, reliable income you may choose to pay at the high end of the range.  You are never asked to explain your choice.  Materials' costs are quoted based on market price at the time we prepare the estimate.  While we are unable to offer a sliding scale for materials, we do try to provide our clients with a range of options and prices when applicable to the job.