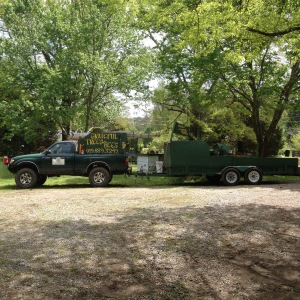 Our trucks aren't new and our first uniforms were hand made. Our focus has always been on the work. With an aging fleet comes an intimate relationship with grime, rust, chipper parts, dirt and head scratching moments. There is also a small group of folks who keep us going every day. I want to take a moment to recognize the following companies and folks who have helped grow Grateful Trees and Bees.
Edward Geiger
One of our closest family friends and my personal mentor is not only a master mechanic but should hold an honorary degree from MIT for his fabrication skills. He owns and operates a great Company: Piedmont Mowing and Maintenance. He can handle a wide range of projects: earthwork, tree services, commercial mowing and custom landscapes. He also plants more urban trees in North Carolina than anyone I know.
Aldridge Saw and Mower Durham, NC
I appreciate the staff at Aldridge . . . they help get oddball parts and do all of my saw rebuilds. These guys keep us cutting!!! Say "Hi" to Rocky (hound dog) while you're there.
Pleasant Green Grass
For all of your organic lawn and turf needs please be sure to call Scott at Pleasant Green Grass (PGG). They also offer a full range of landscaping and organically grown Christmas Trees. I have met many wonderful friends, crew and clients through this local Durham Company. Thanks PGG for your continued support.
Our Crew
Where the rubber hits the road. Let's face it, we are not assembling toys on a production line. All of our job sites offer unique and ever changing situations. Cesar and Miguel offer a special approach to their jobs and could raise the Titanic if they only had a boat. Their raw talent has enabled us to rise in the ranks, so to speak. Kevin is a rapid learner and has a knack for fixing things and noticing when things need fixing. Thanks fellas.
Pixie Barrows
Our NC Certified Beekeeper has helped us grow and sustain healthy organic hives for our customer base. She also secured early hive delivery from Georgia, enabling us to hive a full month before the prime nectar flow!! Great work, Mom. Many thanks.
Co-Owner, Jennifer Socey
The only one yet to be paid, but keeps everyone else paid! Along with our records, Jennifer corrects our management plans and estimates, handles the invoicing, built the webpage, manages our software, taxes (yuck), the blog and a billion other parts that I simply can't get to or, ahhhhhh, am poor at executing. You have done such a good job I think we should get married . . . oh wait. Thank you, my love.
And last, but by no means least, Our Clients
Thank you to each and every one of you. It is an honor to serve your family, your trees, your bees and your land. May your holiday season be joyful, safe and peaceful.
I look forward to a hard working 2016, offering custom arboriculture and forestry services, executed with the "GTB" mindset.
Best,
Jake
Co-Owner/Operator
Grateful Trees and Bees
© 2015 Grateful Trees & Bees.