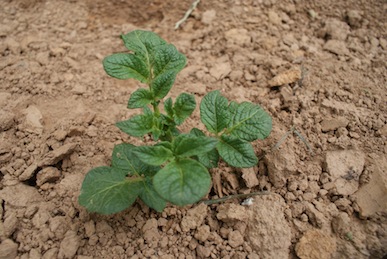 Well, it's official.  At Grateful Trees and Bees' kitchen garden in Durham, NC the potatoes are tucked all snug in their beds while visions of epic growth dance in their heads.  The Farmer's Almanac has a great online tool for determining the best spring planting dates for your neck of the woods.  This year, for Durham, NC they recommend planting seed potatoes between April 2nd — April 23rd.
So see, it's not too late to place your seed potato order and bury some delicious treasures of your own!  And waiting until mid- to late-April may even prove advantageous.  To harness the power of the moon, aim your planting for April 16th — April 23rd.  That's when the moon will be waning and ancient wisdom whispers that's the best time for planting crops that bear below-ground, in the dark of the earth.
If you've never planted Irish potatoes before, never fear.  They definitely take some elbow grease, but they are some of the easiest and downright enjoyable veggies to grow.  We also find that they are rarely touched by garden interlopers like the extended family of rabbits that inhabits our 43,560 with us, so they make a great choice for unfenced gardens.  Their early planting also means they harvest early, usually in June.  So you can rotate a late summer or early fall crop in their place and get double the bang for your garden space.
For a step-by-step guide, check out Growing Irish Potatoes in the North Carolina Piedmont, blogged by Jennifer at HarvestLiberty.net.
© 2014 Grateful Trees & Bees