*This sale is now closed.
+/- 16 acres of Merchantable Timber in Eastern Durham County, NC
---
Summary
On behalf of Mrs. Tanjina Khun, Grateful Trees and Bees solicits bids on all merchantable timber on +/-16 acres located in Eastern Durham County, North Carolina, henceforth to be called Olive Branch Block 33116.  The tract is comprised of 77% mature pine (loblolly and shortleaf) and 33% yellow poplar and upland oaks and other hardwoods.  122,064 BF of yellow pine saw timber, 19,008 BF of yellow poplar saw timber, 18,320 BF of upland oaks and 139.2 tons of hard and soft pulpwood.  Volumes use ¼ International Rule, are estimates and are not guaranteed.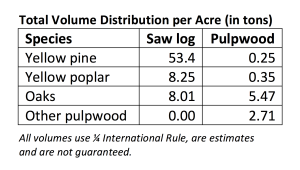 ---
Timber Showing

     

Meet at the tract, 2321 Olive Branch Road, Durham NC, 27703 off of Highway 70 in Durham County, North Carolina on Wednesday, March 23, 2016 at 9:00AM or 4:00PM.

Follow the access path 400 feet to a clearing. Jacob Pressley, RF #1753, will be on site to answer any questions.  Attendance is recommended, but not required to place a bid. Should you be unable to attend during the timber showings, you may contact us to request an alternate viewing time.  Under no circumstances should interested parties examine the timber without a representative from Grateful Trees and Bees on site.
---
Bid Date & Procedures
Bids must be submitted and received by 3:00PM on Thursday, March 31, 2016. Late submissions will not be accepted. All bidders will be notified of the status of their bid and the contract will be awarded by 5:00PM on Wednesday, April 6, 2016. On behalf of the owners, Grateful Trees and Bees reserves the right to reject any or all bids and the highest lump sum bid may not necessarily be awarded the contract.
All bidders must complete a GTB Sealed Timber Bid Form.  Falsification of any part of the bid submission form, or failure to complete the bid submission form in its entirety, may result in bid rejection.
All bidders must submit by one of the following methods:
1. Online submission: http://wp.me/P3YpZv-lZ.
2. Download a PDF of the GTB Sealed Timber Bid Form and send it by email to: jake@gratefultreesandbees.com
3. Download a PDF of the GTB Sealed Timber Bid Form and send it by postal mail to:
Grateful Trees and Bees Attn: Olive Branch Block 33116 1231 Carpenter Fletcher Road Durham, NC 27713
---
Payment & Contract Terms
The owners have a preference for a timber sale contract term of two years, or less, if possible. A period of time until April 30, 2018 will be allowed to cut and remove the timber. Payment for the timber and a $1,000 performance deposit will be required at the timber sale contract closing. Contract must be closed within 10 working days of the bid date. Bid deposit or money at the time of bidding is not required. Buyer or logging contractor must maintain workman's compensation insurance and a minimum of $1 Million general liability insurance. Buyer must assume all risks incident to timber harvesting.
---
Tract Boundaries & Access

        
This tract has a physical address of 2321 Olive Branch Road, Durham, NC 27703, though there is no residence on the property. The tract in its entirety contains 20.95 acres with the harvest block being +/-16 acres in size. Timber sale boundaries have been marked with orange flagging tape and boundary line trees are not to be cut. Access is unimproved. A small clearing +/- 400 feet from Olive Branch Road is large enough to serve as a logging deck. The stands are located on land that has varied slopes (6%-12%) and at least two classified blue line stream crossings. Select-cut stream management zones (SMZ) are marked with stripped blue and white flagging tape. Only solid blue-flagged saw timber size trees may be cut within the flagged SMZ.
---
Harvesting Methods & Expectations
Tract is to be cleanly clear-cut harvested so Loblolly pine can be re-established. Logging debris should be evenly distributed across the tract to facilitate intended tree-planting operations. During the harvest operation wildlife snags (standing dead trees) should be retained when a safety concern isn't present. The following conditions will apply:
Buyer or logger is expected to notify Grateful Trees and Bees 24 hours prior to starting work and to provide timely notice about any work suspensions.
Grateful Trees and Bees reserves the right to halt harvest operations for any reason.
All logging operations must be in conducted in accordance with the guidelines set out in the Best Management Practices Manual of the North Carolina Forest Service and any other applicable local, state or federal regulations concerning harvesting of timber, including strategies for maintaining and protecting existing riparian buffers in the Neuse River Basin.
All roads must be maintained and restored to their original condition upon completion of logging. Any newly constructed roads and log decks must be left in a graded condition upon completion of logging. Buyer will be responsible for repairing any excessively rutted surfaces.
No tops or laps will be allowed to remain in streams, forest roads, Right-of-Ways or over property boundaries and must be pulled back immediately.
Buyer shall be responsible for removal of all trash and recyclables from loading decks and for any contamination of the property by fuel, grease or oil spills.
---
Timber Cruise Methods & Standards   
On November 30, 2015, Jacob Pressley, RF #1753, conducted a fixed radius, 45-plot cruise of Olive Branch Block 33116. Within each 1/100-acre plot, he measured all specimens greater than or equal to 4.5" DBH, assessing total height, merchantable height, live-crown ratio and species. From this forest inventory, stand tables were created to a 90% confidence interval and volumes were computed using the ¼ International Rule.
---
Stand and Volume Tables
---
Maps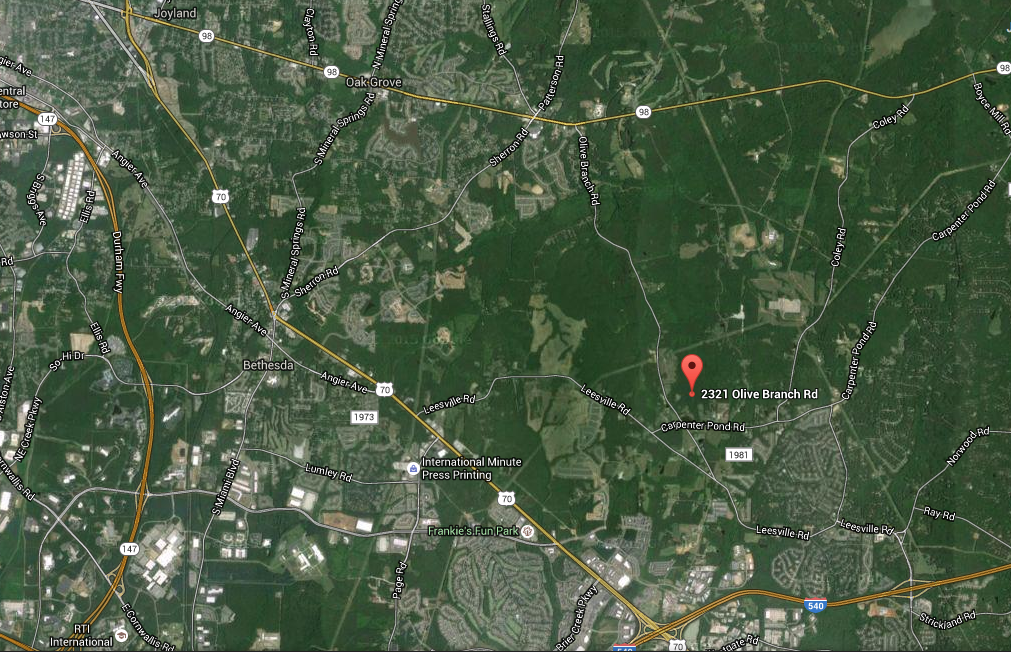 The tract is located at 2321 Olive Branch Road, Eastern Durham County, Durham, North Carolina
---
Additional Questions?
Contact us at 919-889-3242 or jake@gratefultreesandbees.com.