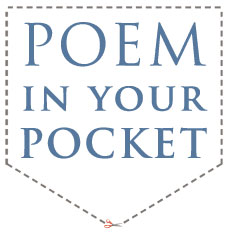 In honor of the bard who blesses our family with his riveting recitations (you know who you are!), Grateful Trees and Bees is thrilled to celebrate Poem in Your Pocket Day.
So, ahem!  Here goes.  Do read out loud now.  Don't be afraid.  We promise, poetry is way cool.
First, from e.e. cummings . . .
I thank You God for most this amazing
i thank You God for most this amazing
day:for the leaping greenly spirits of trees
and a blue true dream of sky; and for everything
which is natural which is infinite which is yes
(i who have died am alive again today,
and this is the sun's birthday; this is the birth
day of life and of love and wings: and of the gay
great happening illimitably earth)
how should tasting touching hearing seeing
breathing any–lifted from the no
of all nothing–human merely being
doubt unimaginable You?
(now the ears of my ears awake and
now the eyes of my eyes are opened)
And from William Butler Yeats . . .
The Lake Isle of Innisfree
I will arise and go now, and go to Innisfree,
And a small cabin build there, of clay and wattles made;
Nine bean-rows will I have there, a hive for the honey-bee,
And live alone in the bee-loud glade.
And I shall have some peace there, for peace comes dropping slow,
Dropping from the veils of the morning to where the cricket sings;
There midnight's all a glimmer, and noon a purple glow,
And evening full of the linnet's wings.
I will arise and go now, for always night and day
I hear lake water lapping with low sounds by the shore;
While I stand on the roadway, or on the pavements grey,
I hear it in the deep heart's core.
All hail the trees and the bees.  All hail the bards!  So mote it be.
© 2014 Grateful Trees & Bees